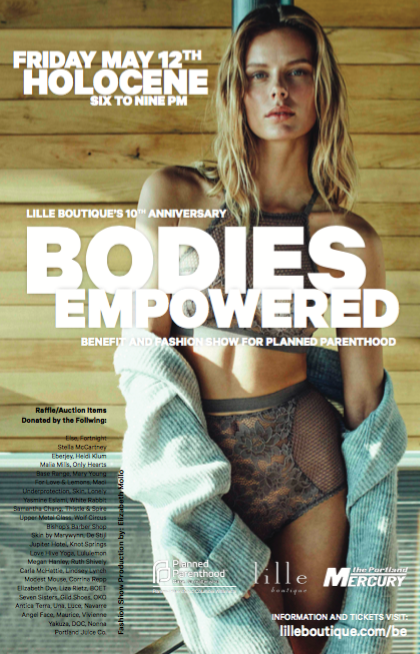 In honor of Lille Boutique's 10th Anniversary, we are throwing a huge party to benefit Planned Parenthood with an exclusive Fashion Show by Else and an appearance by the Turkish designer, Ela Onur. Get your tickets here:
https://www.eventbrite.com/e/bodies-empowered-lilles-10th-anniversary-planned-parenthood-fundraiser-tickets-32981243788
100% of every dollar raised will go to Planned Parenthood--this means that every single person involved in the event is donating their goods and services, so please give generously! There will be many different opportunities to donate in addition to your ticket purchase, including a raffle for over $1000 in Gift Certificates and a Silent Auction featuring generous gifts from local designers and businesses. Visit the Silent Auction page now and start bidding:
https://www.charityauctionstoday.com/auctions/bodies-empowered-1808
You don't need to be present to win, so even if you can't attend the event, you can still bid on the auction or buy raffle tickets. Our goal is to raise $20K for this worthy organization that is in danger of being defunded. With so many amazing prizes donated by this epic list of generous people, you stand a very good chance of winning something:
Lille Boutique, Else, Stella McCartney, Heidi Klum Intimates, Eberjey, Samantha Chang, Underprotection, For Love and Lemons, Malia Mills, Lonely, Thistle and Spire, Fortnight, Only Hearts, NDA, Skin, Upper Metal Class, Base Range, White Rabbit, Madi Apparel, Mary Young, Timpa, Miel, Belabumbum, Yasmine Eslami, Wolf Circus, Elizabeth Dye, Bishop's Barber Shop, Jupiter Hotel, De Stijl Salon, Skin by Marywynn, Liza Rietz, BOET, Antica Terra Vineyard, OKO Portland, Knot Springs, Love Hive Yoga, Modest Mouse, Proper Salon, Lindsey Marla Lynch, Megan Hanley, Ruth Shively, Carla McHattie, Ellen Julia Brown, Petra Winnwalker, Gild Shoes, Halo Shoes, She Bop, White Bird, Voicebox Karaoke, Viscount Dance Studio, Juniper and the Sea, Urban Waxx, Polliwog, Oui Presse, Metro, Doula My Soul, Portland Juice Co., Måurice, Vivienne Kitchen, Pok Pok, Yakuza, DOC, Nonna, Una, Luce, Navarre, Angel Face, Corrina Repp, Lululemon, Charlie Hilton, Blouse, Seven Sisters, Jess Beebe, Barre 3....and more.
Fashion Show Production by Elizabeth Mollo
Special Thanks to:
Holocene, DJ Gregarious, Marissa Sullivan, Portland Mercury, Kris Mesner, Brian Kessler
Alan Wizemann and the hard-working Lille Staff